Corticosteroid
Definition
Corticosteroid is any of the steroid hormones, such as cortisol or aldosterone, produced by the cortex of the adrenal gland. Corticosteroids are also produced synthetically for medicinal purposes. Two main classes of corticosteroids, glucocorticoids and mineralocorticoids, are involved in a wide range of physiologic processes, including stress response, immune response, and regulation of inflammation, carbohydrate metabolism, protein catabolism, blood electrolyte levels, and behavior.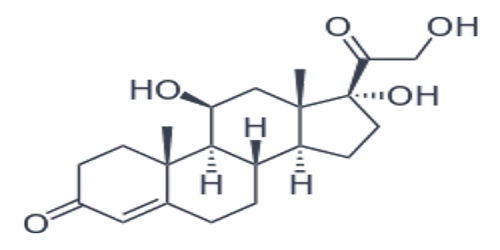 Corticosteroids are often referred to by the shortened term "steroids." Corticosteroids are different from the male hormone-related steroid compounds that some athletes abuse. Some corticosteroid medicines include cortisone, prednisone, and methylprednisolone. Prednisone is the most commonly used type of steroid to treat certain rheumatologic diseases.
Some common naturally occurring steroid hormones are cortisol (C21H30O5), corticosterone (C21H30O4), cortisone (C21H28O5) and aldosterone (C21H28O5). The main corticosteroids produced by the adrenal cortex are cortisol and aldosterone.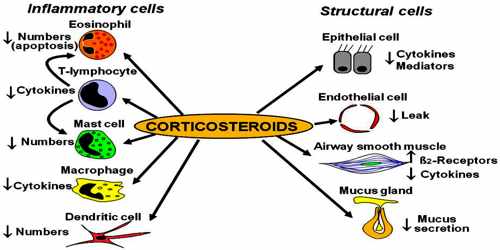 There is some basis for genetic variation in patients' response to inhaled corticosteroids. Two genes of interest are CHRH1 (corticotropin-releasing hormone receptor 1) and TBX21 (transcription factor T-bet). Both genes display some degree of polymorphic variation in humans, which may explain how some patients respond better to inhaled corticosteroid therapy than others.
Common inhaled corticosteroids include:
Beclomethasone (QvarTM)
Budesonide (Pulmicort FlexhalerTM)
Ciclesonide (AlvescoTM)
Flunisolide (AerospanTM)
Fluticasone (Flovent DiskusTM, Flovent HFATM, Arnuity ElliptaTM)
Mometasone (AsmanexTM)
Medical uses of Corticosteroid
Topical corticosteroid medications are used to treat allergic conditions such as atopic dermatitis. Most adults and children can use topical corticosteroids safely, but there are situations when they aren't recommended. Most topical corticosteroids are considered safe to use during pregnancy or breastfeeding.
Clinical and experimental evidence indicates that corticosteroids can cause permanent eye damage by inducing central serous retinopathy (CSR, also known as central serous chorioretinopathy, CSC). A variety of steroid medications, from anti-allergy nasal sprays (Nasonex, Flonase) to topical skin creams, to eye drops (Tobradex), to prednisone have been implicated in the development of CSR.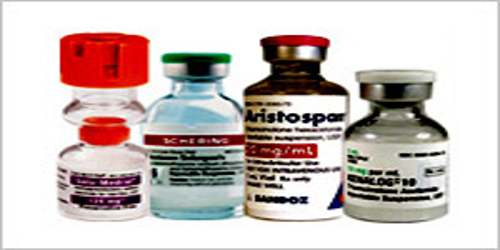 Corticosteroids have been widely used in treating people with traumatic brain injury. A systematic review identified 20 randomised controlled trials and included 12,303 participants, then compared patients who received corticosteroids with patients who received no treatment. The authors recommended people with traumatic head injury should not be routinely treated with corticosteroids.
If potent or very potent topical corticosteroids are used for a long time or over a large area, there's a risk of the medication being absorbed into the bloodstream and causing internal side effects, such as: decreased growth in children, Cushing's syndrome.
Reference: